In our experience, over 70% of LMS customers request that their finance and learning management systems be integrated. In fact, as integration requirements go financial system integration is second only to HR.
The whole point of business systems is to streamline processes for greater efficiency and cost minimisation. But if systems can't talk to and exchange data with each other then the business is really not much further ahead.
The need for integration becomes more evident as the number of transactions, e.g. student enrolments grow.
While a small training provider, delivering only 100 short courses a year could get by without it, a large college with 1000's of enrolments each term would find it grossly inefficient to manually transfer billing data from one system to another.
What sort of financial data needs to be integrated?
This depends on the type of training business, the financial system in use and ultimately its customer profiles.
While fee-for-service providers tend to focus on enrolment invoices for individual learners or their companies, corporate training organisations are usually more concerned with interdepartmental journaling as debits and credits across the various cost centres of the business.
Both are concerned with resource management and accurate cost reporting.
The financial systems used by a small registered training organisation (RTO) would typically be Xero or Myob. Both have strong, well documented public APIs and many LMS vendors will offer out-of-the-box integration options for either or both.
Larger organisations tend to need more complex accounting systems integrated into their Enterprise Resource Planning (ERP) systems, e.g. SAP Business One, Oracle NetSuite, Microsoft Dynamics 365 or Sage 300.
These system provide more complex services like Supply Chain Management (SCM) and Material Requirement Processing (MRP). API support is generally less accessible than Xero or Myob, making integration projects more complex and specialised.
As far as LMS integration is concerned the data-processing needs for complex large organisation systems and smaller organisations using Xero or Myob are the same.
Fee-for-service: typical concerns
Include:
Invoicing students or their companies
Managing payments and receipts
Managing credits and refunds
Managing discounts
Cost reporting
Issuing financial statements
Corporate training department concerns
A corporate training department might deliver learning and assessments services to employees, contractors, volunteers and partner organisations.
While external students or their companies may be charged for training, assessments and certification services, the main focus is usually internal staff.
External training is charged in pretty much the same as fee-for-service providers. But interdepartmental accounting is a different story. In accounting terms, each business unit is essentially a "cost centre" with an account code. Business units provide and consume services to/from each other using a journaling system and standard resource costs.
Generally the Training Division debits other business units for the training, assessment, certification and accreditation services it provides.
But training business needs classrooms, equipment, furniture, HR and Payroll and other services provided within the company. These are journaled as credits from the business units that provide those services.
External supply contracts are handled differently, generally using purchase orders raised by the department against quotes from the supplier. These need to be authorised by the finance department and may involve other parties.
LMS Data processing includes:
All the above if the business unit delivers to external learners
Debits against all 'customer' business units
Credits against all 'supplier' business units where training services are concerned
Expense reporting with standard costs against resources
Supplier and Customer purchase orders
Financial reports

Publicly Funded Training
LMS Processes
The LMS generates invoices and sends these to customers as part of the enrolment information.
Customers can be the students themselves, or their representative, e.g. their company. Invoices factor in discounts, concessions, split payment, payment plans, credits, refunds and additional line items, e.g. non-tuition items like learning materials, media, student accommodation, etc.
The LMS then captures payment data against invoiced amounts.
Integration is usually one way, i.e. financial information is passed from LMS to the Financial system. However, there are occasions when the LMS and the Financial System need to reconcile and synchronise data, particularly in cases where either system can generate invoices and capture payments for the same customer account and product.
Or, when payments cover multiple invoices generated from both systems.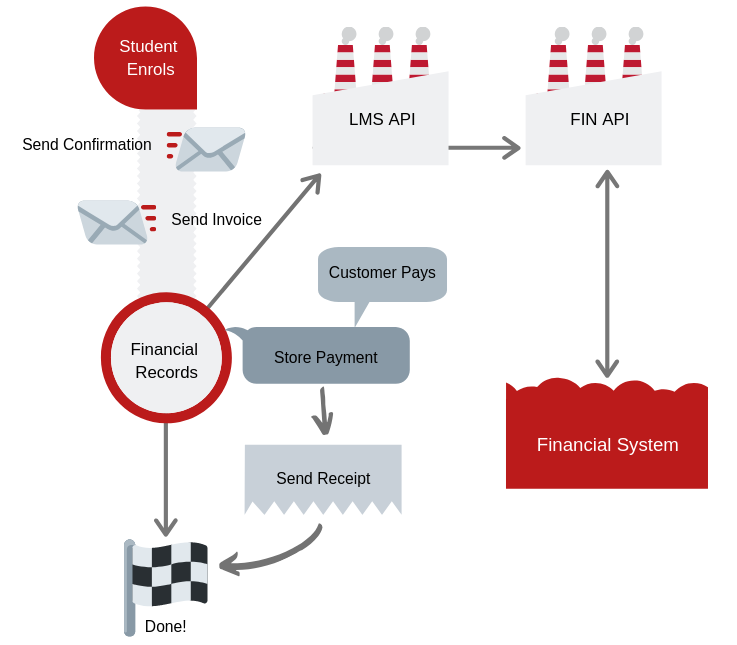 Benefits of integrated Billing and Financial Reporting
The benefits of integrating a financial system with your LMS are all the benefits you would associate with any integrated systems
Streamlined and efficient processes
Financial and training admins can work in their prefered systems while the financial data in both systems is accurate and consistent.
Minimises human and duplication errors
and manual effort