There are differences between a generic LMS platform and one that works effectively for Fire & Emergency Service (FES) agencies,

for example:
FES agencies have specific organizational structures that dictate roles and functions.
Regional, District, Brigade Groups, Brigades, Shifts. There are variations, and partner organisations can have different structures.
FES agencies divide each state into regions , districts and control centres that facilitate local management control that integrate
with
state and national network
s
.
The workforce is generally a complex integration of career firefighters, volunteers, and partnerships with other agencies such as police, local fire services, interstate fire services and state emergency services (SES).
Accreditation and Currency
The firefighter's accreditation process follows many standard patterns and practices that are unique to the industry, but common to its member organisations. Accreditation is supported by a common set of professional development criteria leading to "currency" in the role.
Learning
management solutions
need to integrate with
industry-specific systems such as
resource management, incident reporting, rostering,
and
AIIMS.
But they also need to integrate with the more common business systems such as HR, Document, Financial management and reporting systems.
Most of the required capabilities
, skills and competencies are common to all agencies providing the opportunity for an industry standard capability framework that can if necessary be customized and augmented for each agency and their partner organisations.
Resources, locations and terminology used for training tend to be standardised across the industry.
Fires tend to be seasonal requiring crews to be available to fight fires during the high-risk periods throughout the summer months, the fire season. This leaves the winter months as the only time for training and preparation.
Firefighting requires a highly trained workforce that can operate as effective teams under extreme danger and unpredictability.
FES agencies have a legal obligations and commitment to the community to ensure adequate resources at all levels are trained and maintained across each state in which they operate.
Most FES agencies in Australia are registered under ASQA and classed as Enterprise RTOs. They are required to report annually to NCVER.
A generic off-the-shelf Learning Management System could theoretically be configured

or

integrated

to cater for all those requirements, but history shows that no one has managed to do it successfully. Those organisations who have achieved

some

degree of success have spent millions of tax-payer dollars in isolated pockets of customisation.
When you consider that firefighting is an industry whose importance and relevance can only increase exponentially with climate change, its high time your Fire and Emergency Service agency had access to a Learning Management System that can help you develop and maintain the competencies and capabilities of your workforce.
About the Author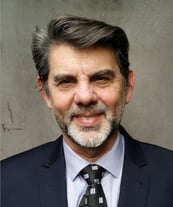 Bruno Cozzi and his team have been busy designing and developing effective workplace learning management systems for over 20 years. The focus for the past 6 years has been workforce training solutions for the Fire and Emergency sector. His diverse mix of skills, combined with a thorough understanding of the vocational education and training (VET) needs of the sector make him a respected leader in this field.
His corporate systems background adds the all-important dimension of business system integration, in a world that demands privacy, data protection, high performance, zero downtime, and user friendly interfaces that work across all devices. But perhaps his most important quality is his outstanding ability to distill complex concepts and technologies into highly accessible, user-friendly and functional solutions.
Cozzi and his team at Bluegem Software are experts in the design and delivery of cloud-based learning and development technologies, web applications and web services.They have extensive knowledge of eLearning, virtual classroom and blended learning technologies and standards for the workplace.