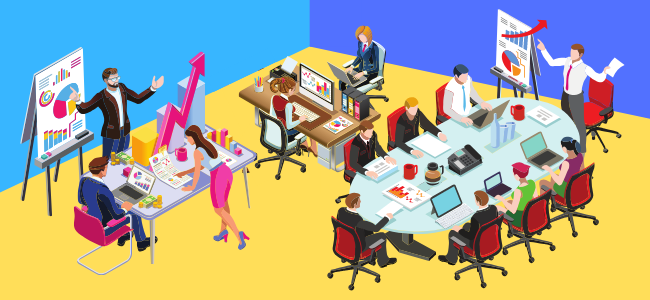 Despite its devastating effects across the world, the COVID-19 experience has led us to form many good habits. Many will stay with us forever. Among these are the use of convenient technologies that help to integrate physical, virtual and online training. Many of our customers now schedule classrooms that support both physical and virtual attendance. More of their courses are now available face to face and online. Students can enrol, access course progress, attend virtual sessions, submit their work, give feedback, make payments and participate in online courses via a personalised learner portal.
Employers, managers, trainers and many training professionals have access to similar portals, providing a virtual Eco system where physical and remote participation are both possible.
As an RTO this Eco system extends your borders, removing the restrictions of a physical location, enabling you to deliver and assess training to national and even global markets.
What technologies can your RTO leverage?
1. Online Learning
The technology for creating, delivering and resulting online courses has been around for 20 years, but the uptake of online learning in the RTO community has never been a priority until COVID 19.
2. Virtual Classroom
Making use of cost effective conferencing tools to provide blended environments makes perfect sense. If your audience has suddenly gained new skills and are now comfortable with video conferencing, why would you not leverage the opportunity to extend your courses to new markets, new locations. Offer a blended environment by simply setting up camera(s) in your classroom, defining the rules of engagement and giving your learners the choice to attend physically or virtually. Many assessments can leverage these technologies too. But there are bound to be many more that require the student to perform task using equipment and workplace environments that would be difficult to emulate at home.
3. Admin Workflows
Admin workflows automate communication, reminders and notification processes. But the can also automate document distributing, calendar invites and much more. Understanding the communication flow, bottlenecks and inefficiencies in your RTO will lay the ground work for lasting improvement and streamlined processes. Data collected or required by your student management provides the triggers and actions necessary to implement effective workflows,
4. Online Documents
Given your students online access to the documents they need to perform their assignments and learning saves paper, time, cost and effort. When you integrate a good Document Management system with your student management and the workflows we described earlier you and your students are thrust into a parallel universe that operate at 10 to 100 times the speed of those manual, paper based processes.
5. Office 365 Integration
There's a reason why Office 365 is classified as "productivity Software. Put simply, it does all the generic document, calendaring, mail and business processes your RTO needs to achieve. And yes a 10 to 100 fold throughput can be classified as "Productivity". Office 365 comes in many flavours and each has core set of productivity features. When integrated with your Student management System, your RTO productivity is significantly amplified.With little or no programming effort or cost your SS data can be used to trigger processes and perform actions that operate in perfect sync with Office 365.
The latest Bluegem release, featuring...
A brand new student portal
Office 365 integration and workflows that you can customise in-house
A business performance dashboard specifically for training businesses
Integration with the popular Moodle LMS
SCORM compliance with no user registration fees
Blended learning now includes virtual classroom, online and face to face
A suite of comprehensive services to help you go online, remote and digitally transformed
Like all good presents its beautifully wrapped with a bright red ribbon and an attractive package. We recommend a demo and attendance at our next webinar.